Some reading for you this morning, via the Wisconsin Stern Steerers Association Secretary Andy Gratton:
Wisconsin Stern Steerers Association Newsletter.
by Deb Whitehorse | Jul 7, 2019 | 2018-2019, Home Page, WSSA

Wise iceboaters know that summer time means shop time.
Via Jay Davis, originally posted on the 4LIYC Facebook page:
Summer work project at Davis boat works in Iowa on Little Wind II. Repainting the bottom and sides. Also did some fixing on the trailer.
Online Ship's Store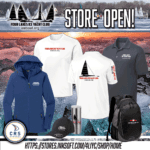 Regatta Dates 2024
Northwestern Regatta (NIYA)
Postponed until December 2023
Information
DN Western Challenge
December 1 – 3, 2023 Information
DN Western Region Championship
January 6 – 7, 2024 Information
DN Senior Shuffle
January 8 – 10, 2024
International Skeeter Association Regatta
Jan 12 – 14, 2024 Information
DN Worlds, Europeans, & Junior Worlds
February 3 -10, 2024 Information
DN North American Championship
February 25 – March 2, 2024 Information
Northwest Regatta Information
Nite Nationals Information
WSSA Championship Regatta
Information.
Subscribe
Join 267 other subscribers
Iceboat Clubs
Menekaunee Ice Yacht Club,
Menominee, MI
Phone 906-290-0047
Facebook Groups
Lake Access Permits
A year-round permit required for designated launch sites in the City of Madison and Dane County Parks. Locations include:
Lake Mendota Warner Park Mendota County Park
Lake Monona Tonyawatha Tr. Olin Park
Lake Waubesa Goodland Park