Sell Your Ice Boat – Submit an Ad
Looking for an Ice Boat or Ice Boat Component? Submit an Ad
Ad Submission Guidelines
Ads must be submitted by email.
Class recognized boats only. Ads will be removed after one year. You may resubmit. Please submit ad in body of an email without elaborate formatting.
(No bold & colored text, bullet lists, etc.) Please give a general geographical location. Please submit 2 photos only.
To submit an ad, please email to debwhitehorse@iceboat.org.
DISCLAIMER: When you post an ad on any website, you will be contacted by people looking to defraud you.
Read "Avoiding Fraud When Selling or Buying a Boat Online"
Protect yourself and learn how to avoid being scammed.
New! Sold Archive page. See all the previous listings that have been confirmed as sold on the SOLD ARCHIVES page.
GO TO SOLD ARCHIVES
Sitka Spruce
Planed & quarter sawn
4-1x12x18'=72bf
2-3/4x6x27'=20bf
1-3/4x6x13'=4bf
1-3/4x7x14'=6bf
2-5/8×3.5×13'=4bf
1-1×1.75×20'=2bf
$10/bf
Wisconsin
garybu@att.net
(920) 469-2330

Solid, Fast, Recreational DN Wanted in WI
Recreational iceboater looking for a solid, complete fully functional DN for use on Pewaukee Lake in WI. I have no need for buying a top performing, race ready boat but instead want a solid, proven fast recreational boat. I am 200 pounds and 6'2" and my wish list would include a carbon fiber mast. Sorry, my free time is limited so no project boats and money is limited because my wife has to approve the purchase. However, if you have a fast, complete ex-racer that is ready for a more comfortable retirement at a reasonable price, let me know.
Rjmkenna63@gmail.com
262-893-7956
SOLD!
Boats and items that have been confirmed as sold.
SOLD! Vintage Skeeter
Includes trailer with full box that will hold 1 sail and the boom and any necessary rigging equipment.
Ready to hit the ice.
Asking $2000 obo
$1000 obo

SOLD! 3 Iceboats With Trailer
One DN, One Skimmer-style iceboat, and a Windstar iceboat. One 12'x8' Interstate cargo trailer to haul them all in.
DN includes 3 sets of runners, 2 Kenyon,  one Polish fiberglass mast with T hound, and two sets of shrouds. Skimmer-style can fit two passengers. Lots of extra parts.
Sold as package in Iowa City, Iowa
$2500 OBO
SOLD! Class B Stern Steerer
Includes trailer with full box that will hold 1 sail and the boom and any necessary rigging equipment.
Ready to hit the ice.
Asking $2000 obo
SOLD! ($825) Vintage Skeeter from the Richard Lichtfeld estate. Always stored indoors and well maintained.
This is an auction that ends July 19, 2023. Click here to bid.

SOLD! ($1025) 22′ Crawfish Iceboat from the Richard Lichtfeld estate. Always stored indoors and well maintained.
This is an auction that ends July 19, 2023.Click here to bid.
SOLD! Classic Class D Stern steerer. Easy to sail and set up.
Skeeter sail and chrome renegade runners. Great for cutting thru crud and spring sailing.
Needs a good home. On trailer for delivery.
$1500 OBO.
Madison, WI

SOLD! DN. Very fast boat used little since I bought it from a racer. Comes complete & ready to sail. Carbon Fiber mast, wooden boom, Harken blocks, etc. (no trailer). Excellent boat for light air. Plank flexibility fine for this 180 lb amateur. Most components come with covers/cases. I can make photos of anything specific upon request. Hull weight: 61.8 lb, Entire/total weight: 163.4 lb. Never outside except during sailing season, if then.
$2490 OBO.
Northeast Iowa

SOLD! "Rainbow 2nd" is a Marconi Rigged Class "A" Ice Boat.
Originally gaff rig built in 1898. Very nicely restored & rebuilt
with West System.
35' back bone
35' mast
18' plank
2 main sails, 1 jib, 2 sets of runners with boxes, full set of travel covers
and cushions.
Comes with a road worthy 31' tandem axle trailer.
$10,000 obo
$8,500 obo
Located in White Bear Lake, Minnesota.

SOLD! DN. Built circa 1965. Perfect beginner boat – has all the parts and it sails fine but not as fast as it could if someone tuned it up right. I think one SS shroud is a bit frayed. Mast & boom are wood. Hull weight: 69.2 lb, total everything: 182.2 lb.
$850 OBO.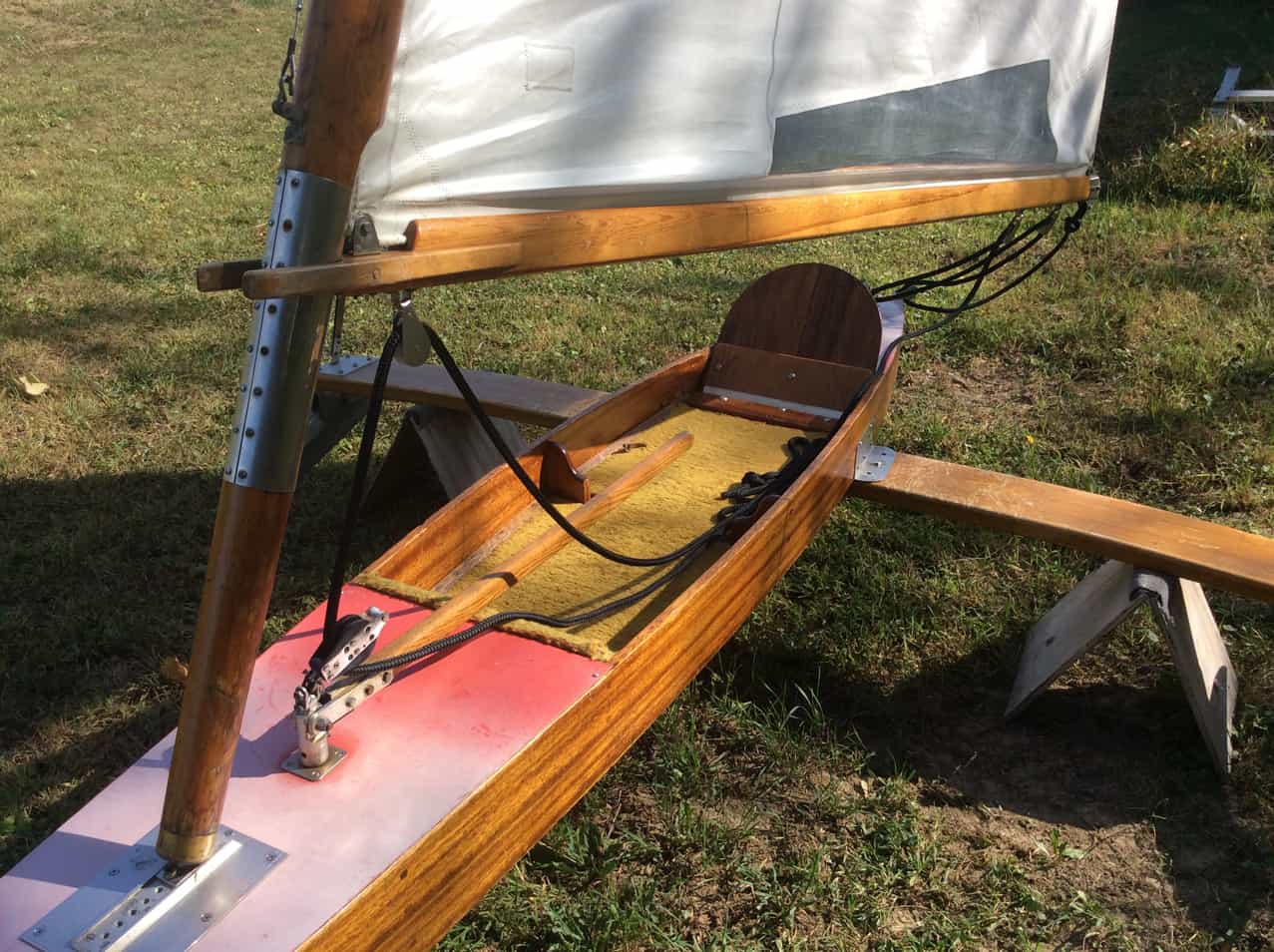 See more previous listings that have been confirmed as sold.
Battens For Sale:
Do you want to go faster and be more competitive? I have a solution for this season. Battens made from quarter-sawn white ash, tapered to your requirements. Made in Wales, Wisconsin.
Send inquiries to mmh.hase@gmail.com / taliesinbatten.com
Composite Concepts
35940 Carlisle Street
Clinton Township, Michigan 48035
Phone:586-790-5557
Email: ron@iceboatracing.com
DN World Champion Ron Sherry's company has both DN and Ice Opti parts available.
Moore Brothers CSI
CSI combines technology and the experience of world class competitors totaling at least 10 World Champions into all of it's products. Whether it's a small fitting or a spar, performance is the underlying goal.
Dave's Machining
David L. Yeadon
402 Milwaukee Ave.
Fort Atkinson, WI 53538
920-563-4341
email
Dave's Machining offers a large range of DN parts. Call or email Dave for a price list.
Gretchen Dorian Photography
Professional photographer Gretchen Dorian's iceboat pictures have appeared in many major magazines. If you are looking for a gift for an iceboater, check out Gretchen's website.
Harken Yacht Equipment
Home of the famous Harken blocks. Based in Pewaukee, Wisconsin, the Harkens are naturally ice boat skippers.
Iceboat Graphics
by Marketing Acuity
Hull numbers and ice boat graphics. Great looking vinly graphics to complement and enhance your craftsmanship. DN hull numbers, boat names, country flag graphics, and custom graphics. Be visible and safe with fluorescent safety stripes and graphics. Easy, secure online ordering.
Iceboat Jack
As seen at the November swap meet in Williams Bay. This jack is a real back saver and it is adjustable to work on DN's, Nites, and just about anything with a plank.
Complete set of plans: $10.00
Kits which include the plans and all the wood parts cut to size: $35.
connor_m@sbcglobal.net
McCormick Lumber
3156 Milwaukee Street
Madison, WI
608-244-4741
Your supplier for Sitka spruce, West System Epoxy, and many other ice boating related items. The McCormick family has been sailing ice boats with the Four Lakes Ice Yacht Club for over 50 years.
Quantum Sails Zenda
"Melges is ready to be able to be able to help the iceboating and land-sailing community of sailors with new sails, battens, covers and other racing materials."
melges.com
262-275-1110  ask for Harry Melges, Andy Burdick or Jim Gluek.
Northwind Ice Boats
80 Twin Fawn Drive
Hanover, MA 02339
(781) 826-8004
FAX (781) 826-2474
Steve Duhamel's company offers a complete line of DN parts and gear.
RKR Composites
"For 14 years Bob Rast and RKR Composites have been developing composite DN masts. The end result is their line of extremely durable, competitive DN racing masts available at affordable prices." Custom Runner Sharpeners available too. Call for pricing. 414-791-3056
North Sails
Ryan Lashaway
Phone number: 419-376-4680
Email: ryan.lashaway@northsails.com
Website: https://www.northsails.com/sailing/en/od/dn-iceboat
Performance Sailing Products
4LIYC DNer Geoff Sobering has thrown his hat into the ring of the ice boat supply business. "Cool parts for fast sailboats, iceboats, and landsailers."
Email
Phone: +1 608-235-3746
1850 Sheridan Street Madison, WI 53704-3443
Skimmer 45
Windward Boatworks in Princeton, WI
T-HOUND / MAST ROTATORS
The T-Hound / mast rotator / spreader bar fitting that you may have seen in action on DN 5224 (the neon yellow boat at the 2007 Worlds) is now available. There are a number of makes and models in use but if I may say so, this version is pretty sweet. It all but eliminates mast inversions, is very clean aerodynamically and allows full articulation at the shroud attachment. They look good too! Available to fit either T-Hound (Kent) or tang-style (Sherry) mast hounds. Designed for DNs but at least one is in use on a Jet 14. We have them for sale- Call or email for pics and price! t_thieler@yahoo.com
401-258-6230
Williams Infusion
Composite DN Masts "Using Technology to build better parts." Now making Ice Opti youth ice boats.
Ullman Sails Detroit
"We are proud to announce the opening of Ullman Sails Detroit – formally North Sails Detroit. All DN Sails are built and designed by Mike Boston. The F01, ABSS, MS-1 are constructed with 6.5 Contender Polykote, to the exact specifications and high quality standards provided in the past. Contact us today to place an order for the fastest DN iceboat sails available."
Ullman Sails Detroit
24422 Sorrentino Court
Clinton Twp, MI 48035
Phone: 586.792.7212
Fax: 586.792.7279
email: mboston@ullmansails.com
Windward Boatworks
Suppliers of custom gear boxes for DN and Nite iceboats. Wire rigging, fiberglass supplies and custom composite work. We also do custom iceboat painting as well. 608-575-8033
W5302 Bend Rd
Princeton, Wi 54968www.windwardboatworks.com
Wing Masts
The ST 49 is a small,inexpensive, open design, box rule wingboat class. Initial testing has the STprototype hitting over 71mph Cruising speed- 60mph in 15 mph winds. If you want to build your own mainwing and flap I'm selling complete rib kits for- $170.00. Patterns – $30.00
John Eisenlohr johhnysrocket2003@yahoo.com telephone- 406 844-2168
Lakeside MT.
Yankee Ice Yacht Associations
For complete set of Yankee blue prints, contact the Yankee Ice Yacht Association c/o Mark Hancik, 305 Dey Grove Rd.
Monroe Twp., NJ 08831
732 446 4377
email: mhancik11@gmail.com
The cost is $75.00 US plus shipping, there are 26 pages of prints and all the frames are drawn to full size