International Skeeter Association Regatta
---
The International Skeeter Association (ISA) was organized in the late 1930s and the first ISA regatta was sailed in 1940. Skeeters were developed on Geneva Lake in Wisconsin. They are piloted by a single skipper and steer from the front of the boat as opposed to the original iceboats which were crewed by two or more and steered from the rear.
The Skeeter is the "Formula One" of ice yachting, a wide open development class where state-of-the-art sailing is seen annually. The only restriction on the Skeeter builder is a 75 square foot sail maximum sail area. While the basic configuration for successful E Skeeters has long been established, significant design improvements have been developed within the Four Lakes fleet. Taller rigs and rear seat Skeeters designed and built by 4LIYC members Bill Mattison and Paul Krueger have brought world championship titles to Madison skippers. In 1989, New Jersey's Dan Clapp took the ice boating world by storm with his first front-seater and dominated the ISA regatta during the 1990s. Skeeter builders are adept with high tech materials like carbon fiber, and Kevlar. The super powerful Skeeters are the fastest boats on the ice. Sufficiently committed skippers find the greatest challenge in these boats, where design, building, and maintenance skills share equal roles with sailing ability

Waiting for ice sailing conditions to return gives more time to post the historical items. The invaluable Brian Reid of New York recently shared some history in the form of a letter from the Palmer Boat Company written in 1936 to a New Jersey iceboater. Brian wrote:
I was going through some images on a snow day here and came upon a few things from out your way. These come from a scrapbook that Greg Strand recently acquired on behalf of the North Shrewsbury Iceboat & Yacht Club of New Jersey; Greg is archivist/historian of the Red Bank crew.The scrap book belonged to George Seger – an active NJ ice boater in the 30s and 40s – he's in Wings on the Ice (p. 59). Greg called me and I took digital images of as much as I could. Great stuff.
As you see in their elegant letter head, the Palmer Boat Company of Fontana, Wisconsin was an early builder of scows and iceboats. Many vintage Palmers have come across the Buy and Sell page of this website over the years. A quick internet search about Palmer boats turned up some interesting facts.  Buddy Melges' father, Harry Sr., worked for Palmer before starting Melges Boatworks. Maine iceboater Bill Bucholz wrote a story about a Palmer, LINGWES, for the Chickawaukee Iceboat Club that referenced the same Richard Moeller as in this letter to Mr. Seger. Thank you, Brian, for sending this out our way.
Previous: Palmer on the Prairie,, December 2, 2016 on iceboat.org.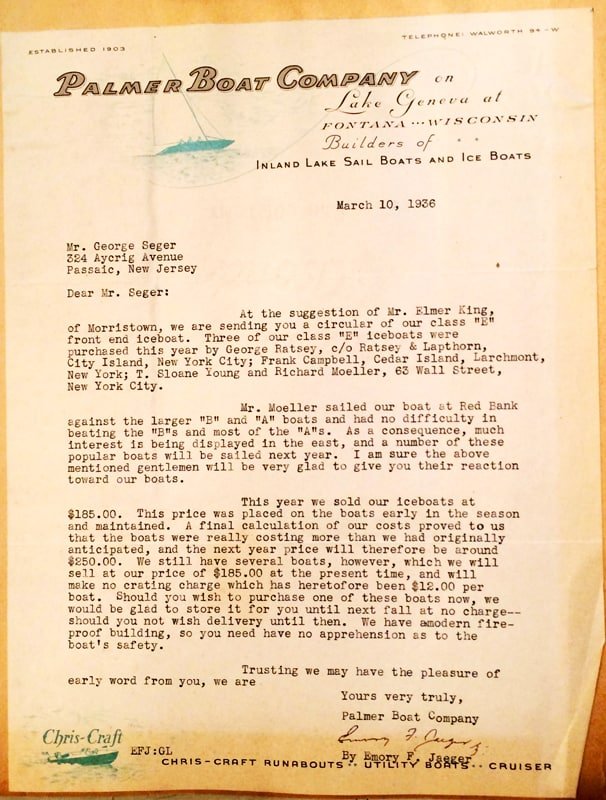 If you interested in the early history of ice sailing in the United States and efforts to maintain and sail historic Stern Steerers, Brian's website, White Wings and Black Ice is a must read.