International Skeeter Association Regatta
---
The International Skeeter Association (ISA) was organized in the late 1930s and the first ISA regatta was sailed in 1940. Skeeters were developed on Geneva Lake in Wisconsin. They are piloted by a single skipper and steer from the front of the boat as opposed to the original iceboats which were crewed by two or more and steered from the rear.
The Skeeter is the "Formula One" of ice yachting, a wide open development class where state-of-the-art sailing is seen annually. The only restriction on the Skeeter builder is a 75 square foot sail maximum sail area. While the basic configuration for successful E Skeeters has long been established, significant design improvements have been developed within the Four Lakes fleet. Taller rigs and rear seat Skeeters designed and built by 4LIYC members Bill Mattison and Paul Krueger have brought world championship titles to Madison skippers. In 1989, New Jersey's Dan Clapp took the ice boating world by storm with his first front-seater and dominated the ISA regatta during the 1990s. Skeeter builders are adept with high tech materials like carbon fiber, and Kevlar. The super powerful Skeeters are the fastest boats on the ice. Sufficiently committed skippers find the greatest challenge in these boats, where design, building, and maintenance skills share equal roles with sailing ability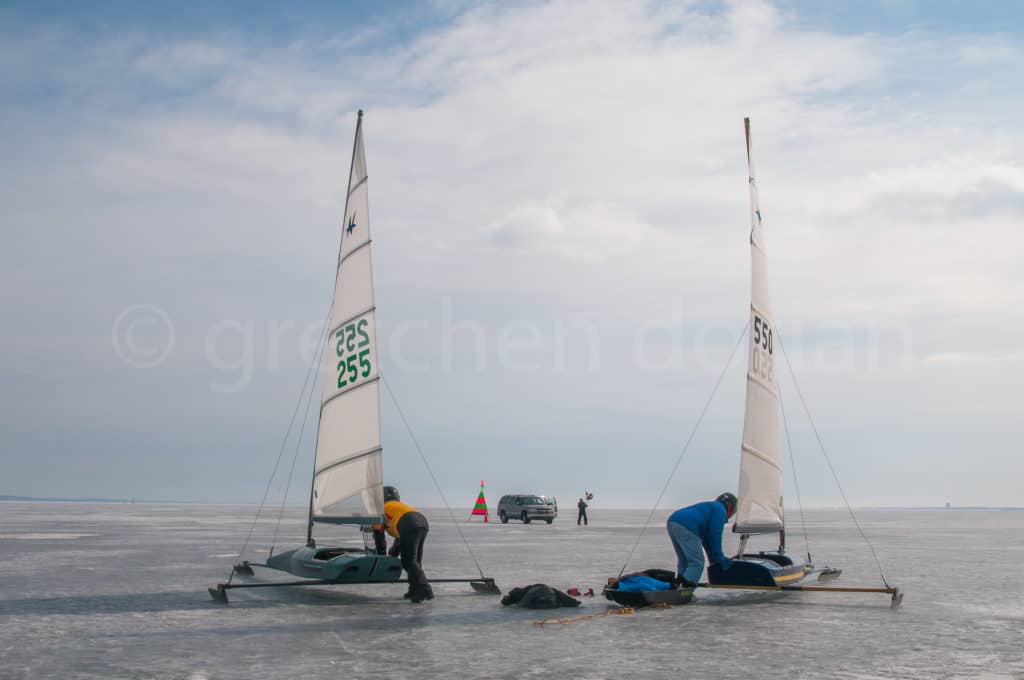 Nites at the 1 and 2 block at the 2015 ISA. Photo: gretchendorian.com
Notice of Race
Sailing Instructions
LAUNCH
Roschen Park.
BACK TRAILERS ON THE ICE, DO NOT DRIVE ON THE ICE

SAILING AREA – WHAT TO KNOW
There's a fairly obvious pressure ridge about 1/3 of a mile south of the launch. Do not sail to the Willows because of open water. There's about a  2 mile x 2 mile sailing area. Don't go wandering off!
UPDATE JAN 10: JD has added more detail to the sailing area map. I don't have time to revise it from the one that was posted yesterday. JD's comments and lines are in black.  Please review.
LODGING:
THE WILLOWS:
Willows on the River Condominium Resort
100 Central Point Road
Lake City, MN 55041
1-651-345-9900
Website
Map
When making reservations you must tell them you are with the ISA regatta.
IMPORTANT: Must call the hotel directly at 651-345-9900 to get discount. No Expedia.
Single condo rooms sleep 1 – 4.
Thursday is $125.00, Friday and Saturday are $87.50.
Double rooms sleep 6 -8.
Thursday is $205.00 with Friday and Sat. $127.50.
AMERICINN
Website
1615 N Lakeshore Drive Lake City, Minnesota 55041-9023
651-314-4152
Map
2 Queen room (no view) 89.90 + tx.
Single queen with a view $89.90 = tx.
2 queen handicap $89.90 + tx.
2 single King $99.90+ tx.
Suite with 1 king and 1 queen separate rooms $109.90 + tx.
SCHEDULE OF EVENTS
Friday, January 11:
8:30 – 9:30 AM Registration at the launch
10 AM First race
6 PM Annual ISA Meeting at the AmericInn
ISA AGENDA
Saturday, January 12
9:30 AM First race
Banquet at the Lake House Restaurant at the Willows.
6:30 PM  cocktails
7:00 PM dinner and order off the menu.
Sunday, January 13
9:30 AM First Race